MrBeast's '7 Days Stranded at Sea' Breaks YouTube Records: A Journey Beyond Views
In the fast-paced world of YouTube, few personalities shine as brightly as Jimmy Donaldson, better known as MrBeast. With his daring challenges and heartwarming gestures, MrBeast has secured his place as a YouTube icon, consistently pushing boundaries and setting records. His latest triumph, the video titled '7 Days Stranded at Sea,' has not only captivated audiences worldwide but also smashed YouTube records within just one day of its release.
A New Record Shattered
In the realm of content creation, YouTube records are milestones that define an era, and MrBeast is no stranger to rewriting these records. The '7 Days Stranded at Sea' video is the latest proof of his ability to command attention and evoke emotions on a massive scale. Within the first 23 hours of its release, the video amassed an astonishing 46 million views, easily securing the title for the most views in a 24-hour period for a non-music video.
Jimmy Donaldson's connection with his audience is palpable. His heartfelt message on X (formerly Twitter), where he thanked his fans for their unwavering support, showcased the authenticity that has endeared him to millions. As he reminisced about his 13-year-old dreams, it became evident that his passion continues to drive his creative journey. Accompanied by a screenshot from the video, his message resonated deeply with fans, reaffirming that he values their loyalty and trust.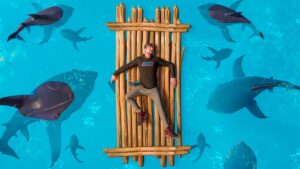 Breaking Stereotypes
MrBeast's video achievements are not only impressive but also debunk common misconceptions about his content. Critics who attribute his high view counts solely to monetary giveaways have been silenced. In characteristic wit, MrBeast responded by highlighting the groundbreaking '7 Days Stranded at Sea' video, where he and his friends faced adversity with humor and resilience. This success underscores that his content is a dynamic blend of entertainment and real challenges, a testament to his innovative approach.
A History of YouTube Triumphs
This recent victory is just one chapter in MrBeast's storied YouTube journey. Rewind to 2021, when he gained widespread attention for his Squid Game-themed video, becoming the fastest non-music video to reach 100 million views. This remarkable accomplishment was a precursor to his most recent accolade, cementing his status as a trailblazer in the YouTube community.
Looking Forward
MrBeast's determination to surpass his own achievements knows no bounds. With a record-breaking video fresh in his portfolio, he's not resting on his laurels. In his typical bold style, he declared, "I'm just getting started!" This proclamation is a testament to his unquenchable thirst for innovation and his desire to continue captivating audiences worldwide.
Conclusion
As the world of YouTube continues to evolve, MrBeast remains a driving force, redefining what it means to create captivating and meaningful content. His '7 Days Stranded at Sea' video not only shattered records but also showcased his commitment to pushing boundaries and defying expectations. With millions of views and counting, this video is a testament to the power of storytelling, perseverance, and the unwavering support of an engaged audience. As MrBeast's journey unfolds, one thing is certain: the best is yet to come.